Our Story, Our Experience
Top Tier started in 2010 with just Tim and a single truck, with Megan in the background filling in around a different full-time job. Hard work, loyal customers and some incredible employees have gotten Top Tier to where we are today – a full service plumbing firm.  Both Megan and Tim are Reedsburg natives and are extremely proud to be serving the community they grew up in.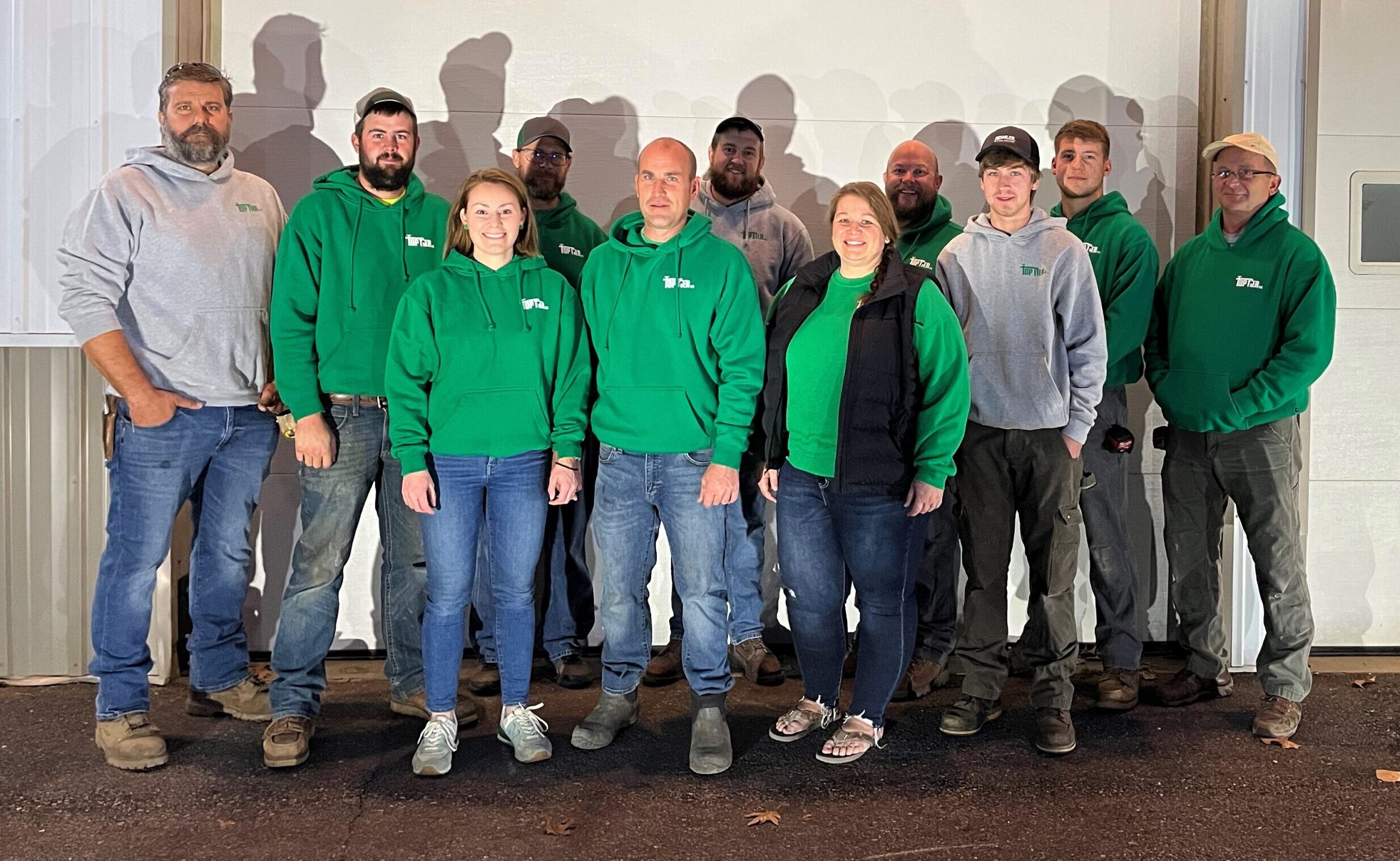 Tim Schumann
OWNER | MASTER PLUMBER
Meet Tim, a tool and equipment loving guy who is just seriously passionate about plumbing. We think he's a master at his trade - but the State of WI does too as he's licensed as a Master plumber. After working as a plumber for 11 years he ventured out on his own and started this crazy train known as Top Tier with his wife (technically then girlfriend, but hey ask him how long he took to propose sometime). When Tim isn't singing random Christmas songs in July, he can be found snuggling with one of his two dogs or kids while researching fun, new tools.
Meg Schumann
OWNER | PRESIDENT | CPA
Dollars and cents, strategic planning and all things operational are what put Meg into her happy place. She has accepted her nerdiness from the beginning earning a Bachelor's in Accounting. It was while working a full time finance job and finishing her Master's Degree that Top Tier began – she loves a challenge. Since then she's embraced learning the plumbing industry and all things related to beautiful and practical kitchen and bath design. A good workout, pizza and time with her family and friends comprise her perfect day.
Julie Kast
OFFICE ASSISTANT
When Julie isn't jamming out to Eric Church songs, eating pickles and dreaming of a beach vacation in St. Lucia she is putting her Associates degree in Marketing to good use at Top Tier helping with all aspects of office operations. She's part task-master, part nurturing motherly figure to us all. Equal parts tough love and sensitivity. Need a recommendation on something fun to watch on Tik Tok or Netflix She's your girl.
Kaleb Kragt
JOURNEYMAN PLUMBER
Kaleb gets the award for being Top Tier's first employee. Over the years he's completed his journeyman plumbing license and managed to develop a real affinity for heavy equipment. Kaleb's heart also holds a special place for everything farming. Spring and Fall seasons you'll most likely find him in a tractor in his offtime. When he's not in his happy place running equipment at Top Tier he can be found in his other happy place driving his 18 wheeler.
Matt Thompson
JOURNEYMAN PLUMBER
Matt joined the Top Tier team in 2012 and he hasn't stopped talking since. He has the gift of gab and a unique story-telling ability which you won't easily forget. Matt's a journeyman plumber and he has definitely had quite the journey learning all different facets of the plumbing industry and picking up a well pump license along the way as well. When he's not out coyote hunting, he can be found on his farm taking care of any number of growing animals that are finding homes there.
Tim Curtin
JOURNEYMAN PLUMBER
Tim spends a lot of his days fixing what your husbands' tried to fix and it ended up not going so well. Tim, a journeyman plumber that specializes in service honestly should just wear a cape some days – he's a cross between Superman and Aquaman. Tim also has his backflow testing license. A fun fact about Tim? He completed a half iron man – finding enough time to train with a full time job and a family with six kids. Again, that cape thing is accurate.
Ryan Fuller
JOURNEYMAN PLUMBER
Ryan fuels up for a long day at Top Tier with tacos – it's his secret weapon. He is working on his plumbing apprenticeship and now can be found happiest listening to Billy Currington while finishing out a mechanical room. One of Top Tier's work requirements apparently is that you must have a love of farming because Ryan also enjoys helping out on farms in his downtime. When Ryan isn't busy plumbing, he's out hunting or woodworking.
Jon Peterson
PLUMBING APPRENTICE
A true Wisconsinite at heart, Jon loves the Packers and a good meal of steak and taters. He even works on his family's farm at the end of the day, because this guy just can't get enough of the great outdoors. Jon is an apprentice in the plumbing trade and especially loves the outside projects he gets to be on. You won't find another person that has a better, glass-half-full view of life than this guy.
Mitch Henke
PLUMBING APPRENTICE
Mitch is the newest team member to Top Tier. A shared love of Mountain Dew and Kwik Trip food has bonded him with the rest of the team. When Mitch isn't learning his new foreign language of plumbing fittings and terminology, he can be found racing around on a dirt bike, bow hunting or fishing.
Kevin Krueger
MASTER PLUMBER
Just call Kevin "The Master". This guy is the Master of all Masters. Kevin taught Tim Schumann everything he knows. He took little Timmy and made him into the plumber he is today. Everyone enjoys having Kevin around and the knowledge and insight he brings to the jobsites and the shop.
Ethan Klinker
JOURNEYMAN PLUMBER
Even though Ethan is a Mauston Golden Eagle, we won't hold that against him and we've welcomed him into Reedsburg Beaver territory. Ethan is a journeyman plumber that no doubt learned his dependability, initiative and integrity from his time in the Marine Corp prior to becoming a plumber. Outside of work Ethan can be found enjoying the great outdoors – on Castle Rock lake, bow hunting or side by side rides. He likes a good challenge – Tough Mudder races and raising two young kids with his Wife – we're sure it's a toss-up some days which one is easier!
Kurt graces us with his presence part-time as he also runs his own successful business Bucky's Trucking. Kurt is a jack of all trades - helping wherever needed with drain cleaning, mechanical work and a great sense of humor.
Poppy joined the shop in June of 2023 as a Greeting Apprentice. She hails from Michigan, but is really enjoying this job opportunity in WI. She enjoys brats just as much as any native Wisconsinite! A quick learner, she's already found the best spots to nap and is perfecting her cute dog stare to get treats from delivery drivers. Bond is proving to be a good manager and will have her moved into Greeting Journeywoman in no time!
Bond is an Illinois transplant, and while his two favorite things are people and food, if forced to pick between the two he would 100% always pick food. He takes his office naps extremely seriously and can at times be heard snoring in the background of calls. He's an absolute lover and takes his work as an official ambassador of Top Tier to heart pledging each year on his annual review to cuddle more people than in the previous year.
Paisley is our wise old soul. She has been a pivotal part of the Top Tier team since inception. While she may have cut back on hours and semi-retired in recent years, her enthusiasm hasn't waned. To this day, she still has not realized that barking ferociously while wagging her tail like crazy is an oxymoron and doesn't fool anyone.