Saying Goodbye to Paisley the Yellow Lab
While this isn't plumbing related, this is a huge part of our Top Tier family business.  Anyone who has ever known the love of a dog will understand this, and for those of you that haven't experienced this I sincerely hope you get to in your lifetime because unconditional love and devotion just can't be found like that in life anywhere else.  
Tim and Meg got Paisley in 2008 – she was the first baby and the first reason for the two of them to have to start acting like grown-ups and gain some more responsibility.  As time went on, and Top Tier began in 2010, Paisley would start her day running with Meg at 5am and then make the daily trek from the house to the shop with Tim, most of the time riding in his lap on the drive there.  She was the one to greet him back at the shop after those first extremely long days.  She was like the energizer bunny – she was always ready to go with you and do whatever needed doing.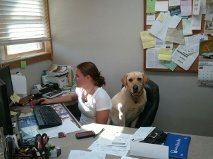 Throughout her tenure at Top Tier, Paisley welcomed each new employee – a love of dogs is a job requirement here – with love and excitement.  As they learned their new roles she was always there if they'd had a rough day.  Each delivery driver that came to the shop would get a ferocious sounding bark with simultaneous tail-wagging as she walked over to greet them and get her daily pets from them.
As time continued to go on – as it always does too fast – she started to slow down a bit.  After all she was getting older and had had a knee surgery, and now she had two little girls at home that she looked after and got up with in the middle of the night.  She liked to lay right next to them as they played and put up with the dress-up as they got older.  At work, she napped more under the desks, and didn't always wake up for each delivery driver – only the ones that were special to her – she had her favorites and she wasn't ashamed to admit it.
We have been extremely lucky to have her for 15 years – and for all 13 years of Top Tier.  Her absence will be felt.  She got us through those first tough years, through years of incredible growth and change, and through some just plain extremely hard times, days and people.  The words "Thank You" just aren't adequate to someone who has given us so much.  So until we meet again Paisley, may your days be spent in the arms of Aunt Sarah and playing fetch with Uncle Sean again.  Thank you for bringing so much love to all of us at Top Tier.