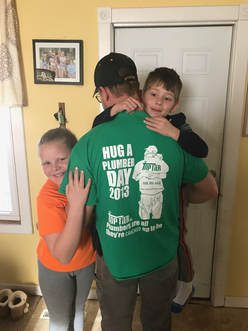 Tim Curtin is certainly not new to the plumbing industry, he is an established journeyman plumber with almost 20 years of experience in the Reedsburg area, but he is Top Tier's newest plumber.

Top Tier was lucky enough to hire Tim in March 2017 and he was brave enough to jump on the crazy train that is Top Tier!  And oh what a ride it's been!  We're so happy to have Tim as part of our team.  He jumped right into the role of our primary service plumber.

Why is Tim so fabulous at what he does managing multiple calls and customers every day?  We think it's got something to do with the fact that he has six kids – the man knows how to juggle schedules and squeeze the most out of a day!  Not only that, but he also knows how to focus his attention on each customer and make them feel well taken care of.  I'm sure his family can attest to that trait.

Since Tim hasn't gotten to experience as many Hug A Plumber week's at Top Tier as our other plumbers, let's make sure we get him caught up on hugs this week!!