It's always exciting to see new products come out, but it's even more exciting when a lot of the products are exactly what we've been looking for and hoping for.  Let's face it – we all spend a lot of time in our kitchens and bathrooms and whenever we can make them more beautiful, functional spaces it's a win for our entire family.
While we saw too many amazing things to mention, we've narrowed it down to three that we are currently obsessing over and cannot wait to integrate into your projects:
Mixed Metals and Finishes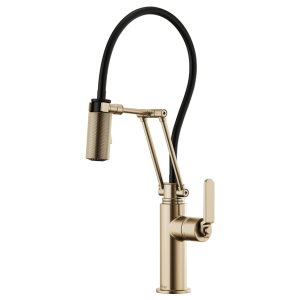 This is such a beautiful trend.  Don't get us wrong, we love when things match and look cohesive, but when you can deliberately layer different metal finishes together it can create such a rich, custom look.  One designer we heard speak talked about using stainless steel as his neutral, and then layering beautiful metal finishes on top of that.  How can you achieve this?  Already have stainless steel appliances? Consider using a matte black faucet, or even some of the beautiful matte blacks that have brushed gold accents – beautiful ones from Brizo.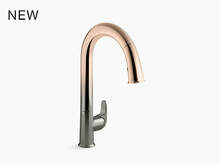 Want to be really bold?  How about an ombré kitchen faucet – yes, you heard that right – ombré from Kohler.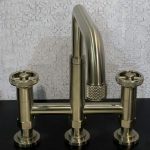 Not ready to go as bold in the kitchen?  Consider a classic stainless finish in a fun industrial twist faucet.
Wow are textures able to take a "that's pretty" to "that's amazing!".  One of our favorites from the past year or two has been Kohler's Whitehaven K-6349-0 – a beautiful white apron front sink – which on it's own white apron front has been done a lot and get's a "that's pretty response" but it's the textural detail on the front of the sink that makes it a showstopper.  This was expanded in different elements throughout the show – one of which was a favorite from Clark Architectural – a beautiful freestanding tub that has textural detail on it that takes this tub into a completely different stratosphere.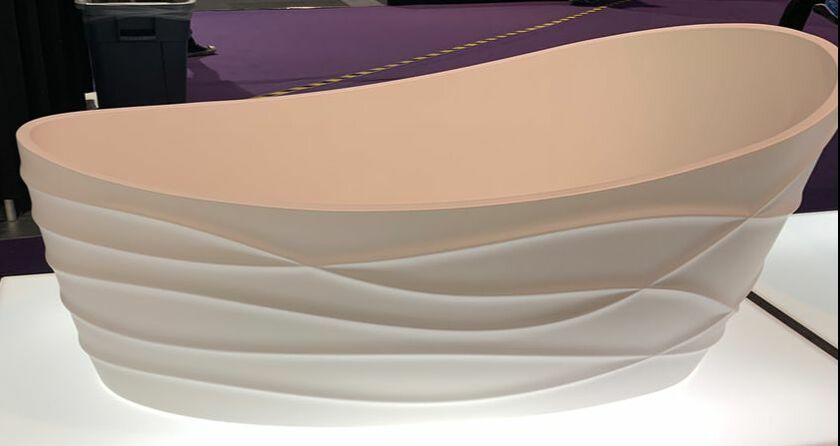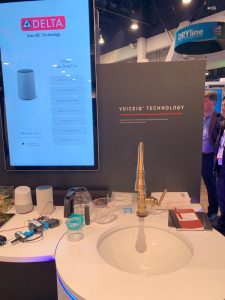 Smart home functionality is a huge market – because anything that can help make our day to day easier and more streamlined – YES PLEASE!!!  What kind of smart tech could possibly be integrated into kitchen and bath? Voice activated faucets.  What better way to get your young kids to start helping around the house – you can program your kitchen faucet to fill up the dog dish to the exact right level without any spills – all the kids have to say are "Alexa – fill Paisley's bowl" (or insert your smart device at the start).  That functionality can also extend to the other end of age ranges – as we get older and it's harder to see those tiny lines on measuring cups you can tell your faucet to fill 2 cups of water and it will do exactly that.
Our other favorite smart device?  WIFI enabled whole home water shut-off valves.  While we always instruct our customers when you are going to be away from the home for any extended period of time to turn off your main water valve and/or power to your well (if you have one) – sometimes you forget and sometimes small leaks are happening before you're able to recognize it.  Our absolute favorite monitors temperature and pressure.  It can give you analytics as to water usage, allows you to shut your water off from anywhere, alerts you if your pipes are getting close to freezing temperature and can identify if faucets/fixtures are using above normal usage would could be a signal of a leaky toilet, faucet etc.  What's even more exciting is that it has the ability to monitor MULTIPLE units for a property!  Hurray for all the apartment owners which can help keep you more proactive on your property maintenance!  That in addition to the catastrophic notice which can let you know if a pipe has burst and allow you to do something sooner instead of getting a call from a neighbor that you have water pouring out of a second story window!
Interested in any of these items?  Give us a call so we can talk to you about them more.  We are passionate about plumbing and helping you make your home a more comfortable place to be.