2021 is bringing some beautiful and functional kitchen sinks along with it.  Manufacturers are incorporating new colors, fun textures and features that make food prepping and dishes just that much easier.
Farmhouse kitchen sinks are still really popular and a fresh spin to the traditional single basin farmhouse sinks is showing up in different shapes, textures and colors.  Kohler makes one of our favorites that provides a double bowl sink which many people prefer and adds a beautiful texture to the front of the sink – check it out here.  Another great Kohler addition is the Ironridge farmhouse sink which brings just a slightly unique shape to the apron front and also allows cabinet makers and carpenters to breathe a sigh of relief with its self-trimming design which makes installation much easier.
Another farmhouse sink that is meshing the apron front aesthetic with our next category of work station sinks is this Elkay sink.
Workstation sinks are becoming a really popular feature for home chefs.  These sinks provide multiple different options for strainers, cutting boards, huge single basin sinks for large pots and pans.  One of our favorite models is the Kohler Prolific series which is offered in multiple different sizes.  We've seen this sink done in both main kitchen sink areas and secondary pantry areas and it seems to offer really great functionality and flexibility.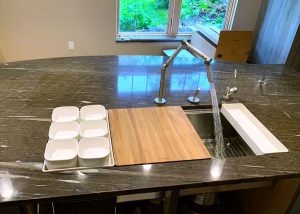 Be sure to check out this article from Houzz on additional kitchen sink trends.  
If you're ready to make the jump to a new kitchen sink, give us a call we'd love to walk through all the great new options available!  Also keep an eye out on our gallery for the latest and greatest kitchen sink installations by Top Tier.