Bathroom updates and remodels are proven to add value to your home.  If you're spending money on a bathroom remodel though it's essential to get the most for your dollar – considerations that can improve functionality, style, storage and comfort are key.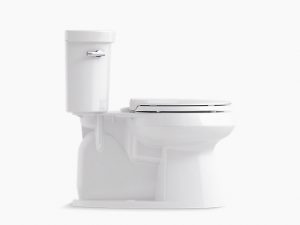 One of the most used fixtures in a bathroom – your toilet should not be an after-thought.  What items need to be considered? 
1. Overall height – would you like a standard height toilet, or would you like an ADA height toilet – often called a "comfort height" toilet?  If you and members of your family are taller a comfort height is often the way to go.
2. Bowl shape – round or elongated.  Do you prefer a round or elongated toilet bowl?  Round is typically more economical of a choice, but often times elongated is preferred to offer a little more space.
3. Performance – There are quite a few things that factor into a toilet's overall performance.  MAAP scores are a measure of flushing capability and good to use for comparisons.  Low flow toilets are great for saving water, but you also need to consider if your toilet is on an old plumbing system – if so the lowest flow is not always the best way to go to prevent clogging.  
4. Additional features – Items like concealed trapways or fully skirted toilets make cleaning the sides of toilets easier.  Toilet seats are also great to consider – whether you'd like a slow-close seat, nightlight seat or even a bidet seat – if you are wanting any of these capabilities there are sometimes additional considerations that need to be taken at rough-in stage so good to plan for these ahead of time.
Depending on the extent of your remodel or update – there will be different considerations for your shower.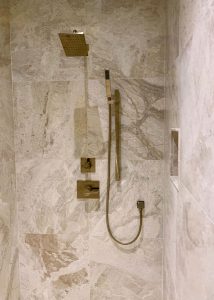 Simple Updates – Keep in mind that if you would just like to update the shower trim, but not change out the surround or open any walls you will be limited to fixture trim that works with the valve that is currently installed in your wall.  Depending on the age and brand will depend on what is available.  Sometimes there won't be options to change a handle, but a shower head is a quick change that typically a homeowner can do on their own.
Extensive Remodels – If changing out your entire shower surround, or removing a surround and installing a tile shower this will open the options to change out your shower fixtures as well.  Items to consider when adding any additional shower heads than just a single standard shower head though is the hot water capacity that you currently have in your home.  No sense in adding 4 body sprays if you only have enough hot water capacity to have them turned on for 3 minutes of run time.  Handheld showers are wonderful additions for everything from cleaning the shower, to children, dogs and making the shower easier to age in place.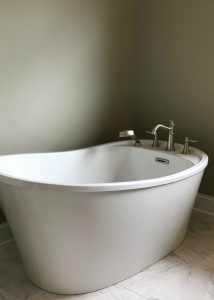 Soaking tubs, whirlpool tubs, air tubs – they are all beautiful and wonderful to have BUT it is important to consider how often you are using them.  If you currently have a huge corner whirlpool and want to take out to put in a freestanding soaker tub to update the look of the bathroom, but you actually use a tub once or twice a year, it likely is not going to be worth the cost unless you have an unlimited budget.  Consider what you would spend in the bathtub and put it into your shower.
It is important typically to buyers to have at least one tub in a house, so if your home has at least one bathtub already, this might be one area to save in your budget and eliminate the tub altogether.
If on the other hand you love taking baths there are some great options out there for different hydro-therapies in an array of sizes and styles.  Always keep in mind your hot water capacity for a tub as well too – if you are upgrading tub size or adding a tub entirely you'll want to make sure you have the hot water capacity to fill it.
No matter how big or how small of a remodel you have planned, it's always best to plan ahead.  If you can have a clear vision of exactly what fixtures, what styles and what features you want before you begin demo you will save in the long run.  You want to avoid unexpected costs for changes that were not made clear at bidding time.  Also, whenever construction is involved, it's best to add a little cushion into your budget for unforseeable issues – what you can't see behind the walls that might need to be fixed or updated.
Another great way to plan ahead for the future is to think about aging in place.  If you have walls opened up now is the perfect time to add blocking in walls for future grab bar locations, or future fold down seats in showers.  Also being mindful of flooring materials being selected to minimize slip and falls.
If you can minimize your lay-out changes by keeping sink, shower, toilet locations where they currently are you will save significantly.  Costs begin to rise when you start to change the overall lay-out of the room. 
If changing the lay-out is unavoidable, just be very clear upfront in the process with your contractors as to what you want where and don't be afraid to ask them their input for any locations that might lead to savings.