2021 brought some really fun design trends in the plumbing world.  Here are some of our favorites from the year from our projects.
Farmhouse kitchen sinks continue to be popular. Classic single bowl, smooth front styles like the Kohler model shown are requested regularly. We've also seen different double bowl options, options with texture on the front apron, and another favorite incorporating the work sink style with cutting boards and strainers that fit into a bevel on the top side of the sink increasing the functionality of an already gorgeous sink.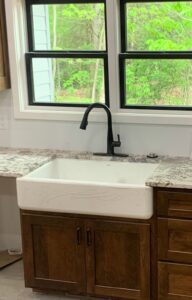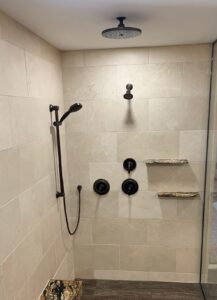 Custom tile showers continue to be heavily sought after additions.  Whether it's in new construction or remodel, these custom showers seem to be highest on the list for needs in a Master bathroom.  We've worked on an array of custom showers featuring rain heads from the ceiling and rain heads on long shower arms from the wall which can provide for increased functionality down the road if you want to change something.  Body sprays and different styles of handheld showers are other features making continual appearances in these works of art.
Matte black fixtures have been the preferred finish color in 2021.  Brushed nickel finishes are still very popular, but matte black has edged into the lead.  Another popular trend has been to mix finish colors including matte blacks with brushed nickels, brushed golds with matte blacks, and even oil rubbed bronze with matte black.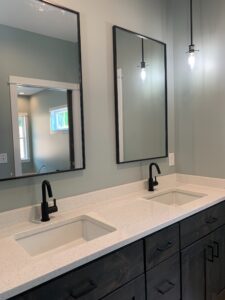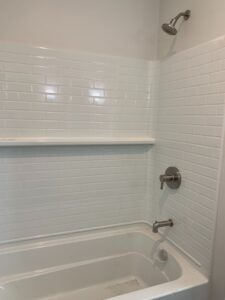 Subway tile inspired tub-shower modules and shower modules have become a fun take on the traditional modules.  It's a more economical way to bring in a subway-tile look to the bathroom and it also provides easier cleaning not having to worry about groute lines.
We love the different options available that provide a very realistic look to refresh the dated modules of bathrooms-past.
Do something DIFFERENT!  Instead of the traditional lavatory cabinet with undermount sink and traditional faucet we have seen an increase in different designs popping up, especially in powder rooms.  These are the perfect spaces to do something different and lean a little more heavily into form versus function.  These spaces typically only require a space to wash hands, not like Master or Main bathrooms that need to accommodate face washing, toothbrushing, shaving etc.  These are the perfect spaces to do something unique and memorable – where your friends and guests will be sure to notice.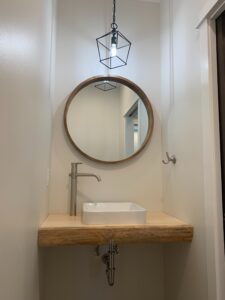 While these provide some great ideas, remember if you can dream it, Top Tier can do it!  We relish the opportunity to make your spaces more uniquely you, where you can be surrounded by beauty and comfort and a true sense of home.